Universal Sensors      
Universal sensors that can be programmed with TPM-02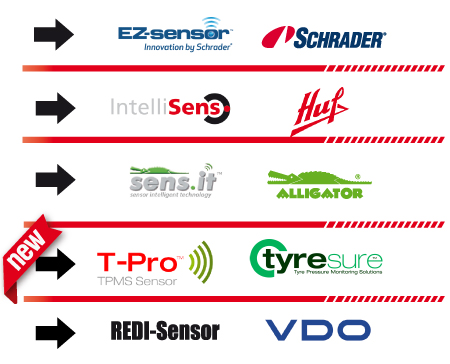 Functions 

  Universal Sensor Programming. With this function it is possible to duplicate an old sensor using a programmable universal sensor to replace broken and/or faulty TPMS sensor.
This procedure programs the universal sensor with the specific firmware and identification code (ID) of the original TPMS sensor.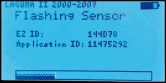 Vehicle Approval/Delivery [tyre maintenance]. During vehicle acceptance or delivery, the EAsychecK VEHICLE TEST function allows checking the correct operation of the sensors and the electronic control unit that manages them.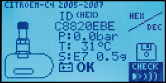 SENSOR TECHNICAL SPECIFICATIONS. They are directly available on the tool of technical data required for the repair, including the TIGHTENING TORQUE to fix the sensor on the rim and the sensor on the valve. Indicated are also all the original spare part codes.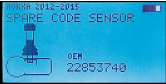 Customer/Vehicle Management. The tool can be connected to a PC and with the supplied software (also via Bluetooth): 
- print the test results and store them on the PC;
- Display the procedure for learning new sensors from the dashboard; 
- update the tool;
- use the barcode reader to acknowledge the vehicle. 

  OBD kit supported functions
With the OBD reprogramming kit it is also possible to reprogram the identification code of sensors on the vehicle directly from the diagnosis socket.
1. Sensor reprogramming
2. Fault code reading/clearing
3.  EASY procedure for sensor and control unit testing and alignment. 

4. Reading of ID codes in the control unit to clone unreadable sensors.
5. Indication of the diagnosis socket position.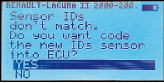 Sensor teach-in procedure from the dashboard 
directly on the tool.

 Print of the operations performed by means of the WIRELESS printer.

  European and USA database included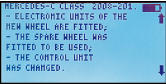 Bluetooth class 1 (300 m) for wireless communication with:
- PC. Wireless communication between TPM-2 and PC with TPMS Manager software.
- Thermal printer. To print the test results directly.
- Barcode reader. To transfer the vehicle VIN number to the tool/TPMS Manager.


Complete integration with the Socio Collection diagnosis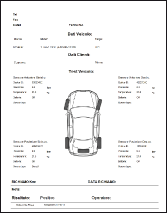 Technical Specifications
- Bluetooth: class 1 (300 m) with integrated antenna
- Dimensions and weight: 160 x 84 x 33 mm - 0.325 Kg
- LCD: Graphic 128 x 64 pixel, 3 inch, transflective (for an optimal viewing even with direct sunlight).
- Lithium Batteries: duration of more than 1 week with
30 vehicles tested/day. 
- Battery charging system: with protected jack socket and feeder. 
- 7 button keypad.
- SD Memory card (1 GB).
- Acoustic and vibrating indicators.
- Stamped rubber non-removable impact protection.
- Protection against environmental factors (IP54).
- Language: Italian, English, French, Spanish, Portuguese, German, Dutch, Polish, Czech, Slovene, Swedish, Norwegian, Finnish and Croatian
- Sensor diagnosis: ID code of the sensor, pressure, temperature, battery level, acceleration, internal sensor status.
- USB port for PC connection and USB mass storage.
Driver Windows XP and Windows 7 and 8.
- Database update through PC directly online.
- Reception frequency: 300÷950 MHz.
- Operating temperature: 0÷50 °C.
OBD Kit
Protocols supported: ISO 11898 CAN-ISO9141 K/L - ISO 14230.
- Communication software specific to each vehicle control unit.
- Power supply directly from diagnosis socket.
- Dimensions and weight: 78 x 45 x 22 mm - 0.125 Kg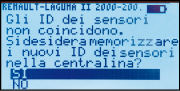 Standard equipment and accessories
Standard equipment

A > Tool, Feeder, USB cable and CD ROM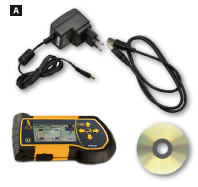 ACCESSORIES
| | |
| --- | --- |
| B >   1450002 | Bluetooth printer |
| C >  1990004 | Wireless barcode reader |
| D >  8 - 64500013 | OBD kit for programming and diagnosis  |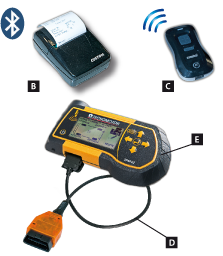 Special configuration
| | |
| --- | --- |
| E + D >   601500139 | TPM-02 + Kit EOBD* |
* carrying case included 
Services
- 6015000820 -> Annual subscription of sensor diagnosis software and programming of universal sensors supported by Tecnomotor.
- 8-64500013 -> Kit EOBD for reprogramming sensors in vehicle control unit.
- 6015000821 -> Annual subscription of sensor diagnosis software and programming of universal sensors and reprogramming and sensors in control unit